Building Overview
Green By Design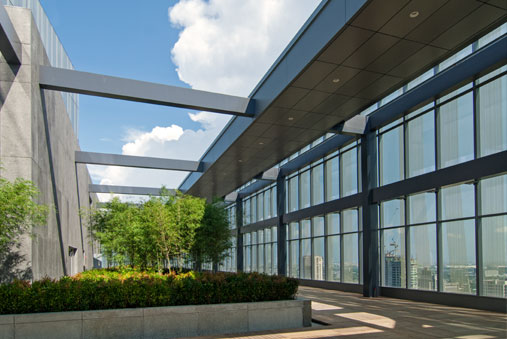 The Zuellig Building combines a commitment to environmental responsibility with state-of-the-art infrastructure and superb finishes to offer tenants a prime-grade workplace of a quality unmatched in the office market of Metro Manila.
The building stands on an 8,285 sq.m. property. The site is easily accessible from all directions and is pedestrian-friendly.
ALL-GLASS FACADE

The building gains its identity from the ceramic frit pattern of the glass curtain wall. Inspired by bamboo and flowing water, the distinctive all-glass facade lends reference to vernacular and organic motifs and serves to supplement the shading capabilities of the building envelope. The large double-paned glass panels with low emissivity (low-E) coating minimize solar heat gain and energy loss while maximizing the penetration of light.